FROM SIGN TO WRITING Chen Li taught calligraphy from 1996 until 2010 at the association "Dal segno alla scrittura" founded by Piero De Macchi in 1994. She has also taught as a freelancer in schools - public and private - primary, secondary and high schools. In 2003 she also taught at the IED (university of graphic design and fashion) in Turin, Italy, invited by Piero De Macchi in his lessons about font design. Chen Li has also taught in workshops she designed for museums and contemporary art contexts where calligraphy was part of the artistic research, looking for new, original paths suitable for children and not connected solely to the repetition of models of the past. Since 2001 she has also taught in primary schools where she has developed a learning path of writing linked to the sign with a method tailored on children and teachers. In 2016 she was invited by the Children's Academy (Accademia dei Bambini) of the Prada Foundation in Milan, Italy, to create a serie of workshops on sign and writing. Here are the videos of the experience of two years: 2017 and 2018.
You may contact Chen Li for calligraphic workshops for primary school children, graphic design schools and fine arts schools.
Chen Li learned calligraphy working together with many calligraphy masters from all over the world.
She attended Polytechnic University of Turin (printing and printing techniques), graduated in 1998.
She started teaching calligraphy since 1995 in calligraphic association Dal segno alla scrittura in Turin, Italy.
She worked as a teacher at IED Turin and at International school of graphic in Venice.
Recently she devoted herself to teaching of calligraphy to primary school children.
Chen Li continue to teach contemporary calligraphy to adults once per year.
Rediscovering Uncial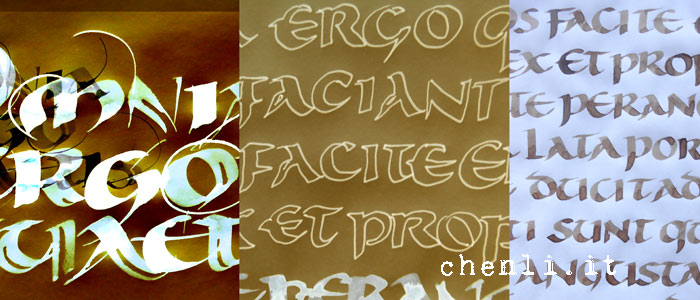 WHEN: 2016 April 2-3 WHERE: TURIN, CORTILE DEL MAGLIO, VIA ANDREIS 18 INT. 18/E INFO: chenli@chenli.it Uncial is an interesting simple style for beginners. Dated 3rd-8th century A.D. its rounded form can be very ancient and satisfying, but if you are curious, you can try the new ways to make it contemporary using unusual tools.