FROM SIGN TO WRITING
You may contact Chen Li for calligraphic workshops for primary school children, graphic design schools and fine arts schools.
Chen Li learned calligraphy working together with many calligraphy masters from all over the world.
She attended Polytechnic University of Turin (printing and printing techniques), graduated in 1998.
She started teaching calligraphy since 1995 in calligraphic association Dal segno alla scrittura in Turin, Italy.
She worked as a teacher at IED Turin and at International school of graphic in Venice.
Recently she devoted herself to teaching of calligraphy to primary school children.
Chen Li continue to teach contemporary calligraphy to adults once per year.
Rediscovering Uncial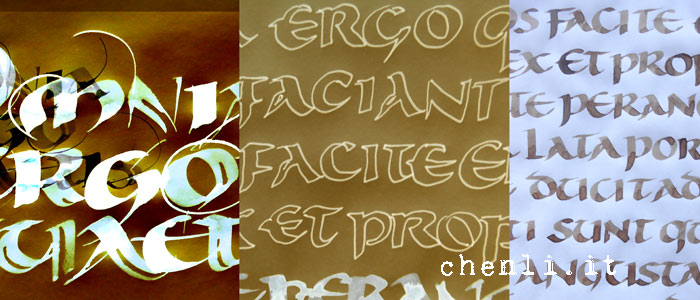 WHEN: 2016 April 2-3 WHERE: TURIN, CORTILE DEL MAGLIO, VIA ANDREIS 18 INT. 18/E INFO: chenli@chenli.it Uncial is an interesting simple style for beginners. Dated 3rd-8th century A.D. its rounded form can be very ancient and satisfying, but if you are curious, you can try the new ways to make it contemporary using unusual tools.